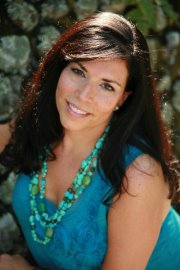 Silvia Rossi is a modern-day Psychic-Medium who has experienced spirit communications throughout her life. As a toddler she saw "shadows" in the room and as a young teen she saw "people" at the foot of her bed. Silvia was born with a gift that filled her days with images and information about people she would come into contact with.
Afraid and unsure of what these apparitions of the deceased meant, Silvia tried to ignore and even suppress these experiences. Through her teens and while she attended college and graduate school these spirits became more and more persistent in their behavior and their need to communicate through Silvia. In her mid twenties while attending meditation classes, Silvia met a fellow medium who became her mentor and guide within the spiritual world. It was at this time that Silvia began to understand that all of these experiences she was having were proof that not only did life exist beyond what we call death, but also this life was only one phase in the eternal journey of the soul.
Today Silvia understands that she has been chosen as a conduit between this earthly life and the spiritual world and she feels obligated to use and share her gift to bring comfort, information and closure with the messages she receives from the spiritual world, to those here around her.
In the course of the past 23 years Silvia has hosted her own Radio Show, Make Contact With Silvia Rossi, appeared on the Sally Jessy Rafael Show and has been a guest and co- host on the radio podacast show Creative Mojo with Mark Lipinski. Silvia was featured on Telemundo's Al Rojo Vivo throughout the month of July 2015 and in May of 2016 and was interviewed on Univision's Cronicas de Sabado for a segment on The New York Zodiac killer Heriberto Seda in July of 2016. Most recently, in October 2016 Ms Rossi was an invited guest to the popular Latin morning radio show in New York City, La Mega 97.9 Vacilón de La Manana, in which she read live for the resident DJs and took questions from callers.  Silvia conducts workshops to teach others on  how to understand and better their connection to the spirit world. She has worked with the police, helping them solve cold cases and murder cases. Silvia was honored to work alongside the families and support groups of victims of September 11th tragedy. Over the years, Silvia has garnered a loyal and ever growing clientele and following  in the United States and Internationally.
Silvia met John Edward at a workshop he conducted in 2003 and he was thoroughly impressed with her abilities after she relayed a message from the spirit world to an audience member at one of his events.
Silvia maintains a working relationship with several psychologists in the tri-state area who refer her mediumship services to their patients to assist in the grieving process. She conducts her practice out of offices in New York City and New Jersey.
Silvia has made it her mission to help individuals and families understand their eternal connection to loved ones that have passed on; bringing relief and comfort to the very many who have been touched by her gift.
Currently, Silvia resides with her family in New Jersey and enjoys lecturing and teaching.  Silvia also dedicates time to one of her life-long passions, singing and playing guitar with New Jersey's own Mid-Life Crisis Band.

FOR THE LATEST NEWS FOLLOW SILVIA ROSSI ON INSTAGRAM FACEBOOK AND TWITTER AT BOTTOM OF PAGE!
ACERCA DE LA PSIQUICA Y MEDIUM SILVIA ROSSI
Silvia Rossi es una psíquica y médium moderna, que ha experimentado comunicaciones con el lado espiritual a través de su vida. Cuando Silvia era pequeña, veía "sombras" en la habitación y en su adolescencia veía "personas" al pie de su cama. Silvia nació con un don que llenó su vida con imágenes e información acerca de personas con las cuales tenía contacto.
Temerosa e insegura sobre que significaban estas apariciones de personas fallecidas, Silvia trató de ignorar y hasta reprimir estas experiencias. Durante su adolescencia y mientras asistía al "college" y a la universidad, estos espíritus eran más y más persistentes en su comportamiento y su necesidad de comunicarse a través de Silvia. Cuando Silvia tenía entre 20 y 25 años, mientras asistía a clases de meditación, Silvia conoció a otro médium, el cual se convirtió en su mentor y guía dentro del mundo espiritual. Fue en esos momentos cuando Silvia comenzó a comprender que todas esas experiencias por las cuales ella estaba pasando, eran prueba de que no solo existe la vida más allá de lo que nosotros llamamos la muerte, pero también que esta vida era solo una fase en el camino eterno del alma.
Hoy en día Silvia comprende que ella fue elegida como un conducto entre esta vida mundana, y el mundo espiritual, y se sintió obligada a usar y compartir su "regalo" para llevar confort, información y término con los mensajes que ella recibe del mundo espiritual, a aquellos que están en este mundo alrededor de ella.
En el curso de los últimos 23 años, Silvia ha tenido su propio programa de Radio,  Haga Contacto con Silvia Rossi.  También se presentó en el programa de Televisión "Sally Jessy Rafael" y ha sido invitada y ha compartido en el programa de radio "Creative Mojo" con Mark Lipinski. Telemundo ha colaborado con Silvia donde filmaron varias escenas en los meses de Julio 2015 hasta Mayo del 2016 para el programa Al Rojo Vivo. En Julio 2016 Univision  entrevistó a la médium para el programa Cronicas de Sábado cuyo show se trató del asesino de série Heriberto Seda, El Zodíaco de Nueva York. Más recientemente fue una invitada en el show popular de rádio de Nueva York, La Mega 97.9 El Vacilón De La Mañana, donde Silvia leyó para los DJs y los oyentes.

Silvia conduce (workshops) para enseñar a otros a comprender y mejorar sus conexiones con el mundo espiritual. Ella ha trabajado con la policía, ayudando a resolver casos que por muchos años no habían tenido una resolución y también casos de homicidio. Ella tuvo la difícil tarea y a la vez el honor de trabajar con familias y grupos de apoyo de víctimas del 11 de Septiembre, 2001. Durante todos estos años, Silvia ha expandido su clientela y seguidores en los EE UU, al igual que en el extranjero.
Silvia conoció a John Edwards en un (workshop) que el condujo en el 2003, y él verdaderamente quedó impresionado con la habilidad de ella, después que ella le comunicó a un miembro de la audiencia un mensaje durante dicho evento.
Ella ha tenido el privilegio de trabajar con muchos psicólogos en el are de NY, los cuales continúan refiriéndole sus pacientes, cuando los métodos convencionales fallaron. Ella practica en su oficina de la ciudad de New York, y en la de New Jersey.
Silvia ha hecho su misión, el ayudar a individuos y familias a comprender sus conexiones eternas con personas queridas que han muerto; trayendo paz y confort a muchos que han sido "tocados" por su don.
Actualmente, Silvia vive con su familia en New Jersey y disfruta el dar clases, y conferencias. Silvia también se dedica a su segunda pasión, cantar y tocar guitarra con el conjunto musical Mid-Life Crisis de New Jersey.

PARA LOS ÚTIMOS INFORMANTES SIGA A SILVIA ROSSI EN SUS REDES SOCIALES DE INSTAGRAM, FACEBOOK Y TWITTER!
49 Comments